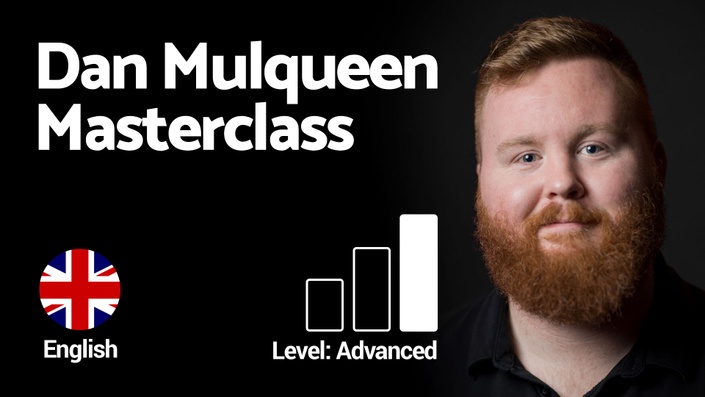 Dan Mulqueen Masterclass
Learn from the best
Dan Mulqueen: Amazing teaching package exclusive to MasterTheHandpan.com
David's dream
As a musician for many years, I have always found inspiration in others. Starting out with guitar, I watched hours of videos of my heroes: Tom Morello, Carlos Santana, Angus Young, Frank Zappa, Chuck Berry, Jimi Hendrix, Eddie Van Halen, Al Di Meola… and more. I tried to copy their legendary solos (when I could!) and learnt so much from them. They sparked my passion, curiosity and creativity and helped me to become the musician that I am today.

Whether it's guitar, handpan or another instrument, I passionately believe that in learning from each other, and in learning from the best, we enrich ourselves and truly progress.
A dream come true
My vision for MasterTheHandpan has always been as an online school with many teachers showcasing their unique styles, skills and personality. I want my students to feel constantly motivated, to progress, to have access to fresh, inspiring tutorials from both established professionals and the latest talent to explode onto the handpan scene. There's nothing more exciting than discovering new grooves and patterns, even new ways to touch your handpan.

Today, I am hugely excited that my dream is becoming a reality... with this first course pack from Dan Mulqueen.
An 8 hour flight, some French wine and all the enthusiasm about teaching
I love Dan Mulqueen's style. It is utterly unique and full of energy. I will never forget the 'wow' I felt the first time I saw him play. Since then, Dan has not only has taught me a lot but also become a very good friend. So it seemed like a natural step to ask him to help my students at MasterTheHandpan - I want you guys to experience this 'wow' too! Thus here we are… Dan standing my balcony, glass of vin rouge in hand, incredibly excited about sharing his art with us all :)
Dan, tell us more!
Hi guys! I have carefully selected the grooves and techniques to give you the most well-rounded course that I can. I believe that my tutorials will give you an accessible way to understand the structure of rhythms and patterns… whether it's something really fast and technical or slow and melodic.
Patterns and grooves, for me, are all about tying in nice melodies with a back beat and finding a way to transition between parts. In this course, I have selected some of my favourite patterns to demonstrate this in the hope that you will not only LEARN that groove, but also APPLY it to your practice and develop your own way of playing it.
I really enjoyed working with David and using the MasterTheHandpan system to teach. Filming everything from above makes so much sense. When you look at a player head-on, things can seem insanely complicated purely because the hands are inverted and you cannot see everything that is going on.
What is in this course?
The curriculum is quite simple: Grooves and fills. Creating space and filling that space in the most creative and meaningful way we can think of.
In the first lessons, the grooves take fundamentals that you have learned and practiced and apply them in some of my favourite ways to create some of my favourite grooves to play. In the later lessons, I introduce new techniques, the grooves become more complex and we look at more challenging ways to fill the created space.
Everything I do is broken down and slowed down to help you learn, but when played at increased speeds can be truly impressive.
By the end of the course, you'll walk away with some new grooves and fills in your game. But more importantly, you'll also walk away with a new way to approach your playing. I worked very hard to structure my lessons so they are not 'Play like me' but 'Learn this then play it YOUR way'.
Is this course right for me?
In a nutshell, yes!
I aim to simplify the complicated. You'll see what fundamentals can be transformed into when applied to different settings. You'll also walk away with a bunch of cool new techniques to practice.
My lessons provide you with a different way to apply the fundamentals you're already comfortable with. The things you'll learn here will hopefully inspire you to take the technical knowledge and do your own things with it. You'll also learn a bunch of new skills and fills that you can incorporate into your compositions.
My course will give you a unique perspective on things you will be able to technically play after a few views of the videos. I've always lived by the axiom: "There's no such thing as too much information", so even though the technical side might not be a big challenge for you, the application of such techniques will be!
Can I try this course for free?
Sure! This is actually a great idea. I have prepared a selection of amazing lessons so you can fully test this course : Click here to access the FREE trial of Dan Mulqueen Masterclass.
Why should I buy this course?
This course is aimed at helping everyone improve, regardless of your level, and to give you an insight to how I go about structuring grooves, fills and ultimately tunes. My lessons are presented in a different and more practical way. Even the fast-paced stuff and things that sound technically advanced are broken down into easily understandable parts.
And finally, it is super-easy to practice and apply to your own style. As Bruce Lee once said: "I fear not the man who has practiced 10,000 kicks once, I fear the man who has practiced one kick 10,000 times." … now replace 'kicks' with 'handpan techniques' and you'll see why this course is value-for-money - haha!
Advantages of this way of learning
You will have Dan in your living room, taking the time to explain everything to you (if you try to book the same with such a busy professional, you'll normally have a very long wait before they are available!)
Everything is shot from above: left is left; and right is right; and you can see all the notes
You can watch the videos whenever you want, as many times as you want, learning at your own pace
You can pick the lessons that are right for your level and choose what you want to learn
Learning all this by other distant-learning such as Skype would take dozens of hours and cost a fortune
More than an online course
MasterTheHandpan is an entire school of learning, so you're a part of something much bigger
You'll have access to our student community of more than 900 players on Facebook
You can share your progress and get help, inspiration and motivation exactly when you need it
You'll receive feedback and new challenges from your teacher
David also offers Live Q&A sessions where you have the chance to ask him anything handpan-related and win some great prizes too!
Your Instructor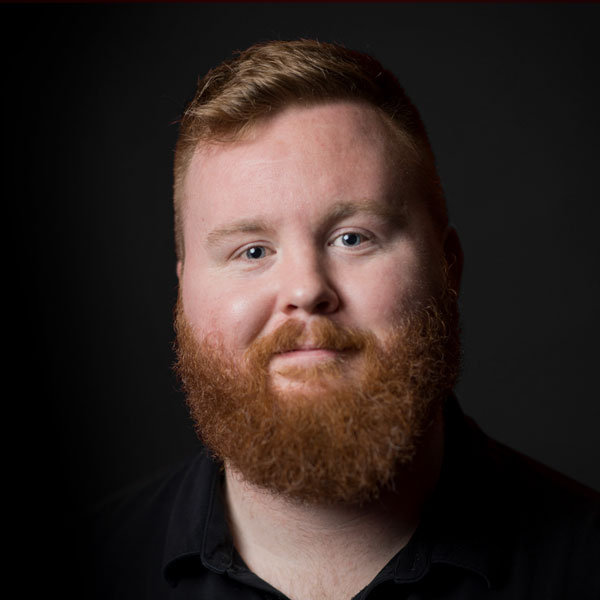 Dan Mulqueen is an American multi-instrumentalist from New Jersey. He has been playing drums since he was ten years old. Over the years, he's played in many bands in every genre from rock, metal, hip-hop, jazz, blues, latin, hardcore, EDM, reggae and more.
He came across the handpan in a Davide Swarup YouTube video in 2007. It was love at first sight. While waiting for his first pan, he found an old cymbal that he didn't use anymore and put 8 stickers around the circle to start practicing the scale runs and wrist movements he observed in others players.
As soon as he received his pan, he practiced for hours every day, and even though it wasn't a 'top shelf' instrument, he was determined to get the sounds out of it that he heard online. From years of playing drums, he was never one to blame his shortcomings on equipment…he firmly believes that a good drummer can make any drum set or cymbal sound good…so why should the handpan be any different?
Determined to push the limits of music revolving around this instrument, Dan's playing style is both beautifully melodic and intensely percussive. When teaching, he invites his students to experience elements of different grooves and multiple genres all broken down into an easily digestible format.
He has recorded 3 handpan albums so far: Until I'm ready; Late Night Sound; and Handwriting. They also feature instruments such as upright bass, piano, electronic beats and guest vocals. No matter what kind of music you're into, Dan has something in his catalogue for you. So kick back, relax, and enjoy the sounds of Dan Mulqueen and the handpan!
Do you want to have a full experience of this course? 🤗
Try Dan's Masterclass and watch some lessons for free.
Frequently Asked Questions
When does the course start and finish?
The course starts now and never ends! It is a completely self-paced online course - you decide when you start and when you finish.
How long do I have access to the course?
How does lifetime access sound? After enrolling, you have unlimited access to this course for as long as you like - across any and all devices you own.
What if I am unhappy with the course?
We would never want you to be unhappy! If you are unsatisfied with your purchase, contact us in the first 30 days and we will give you a full refund.
Get started now!