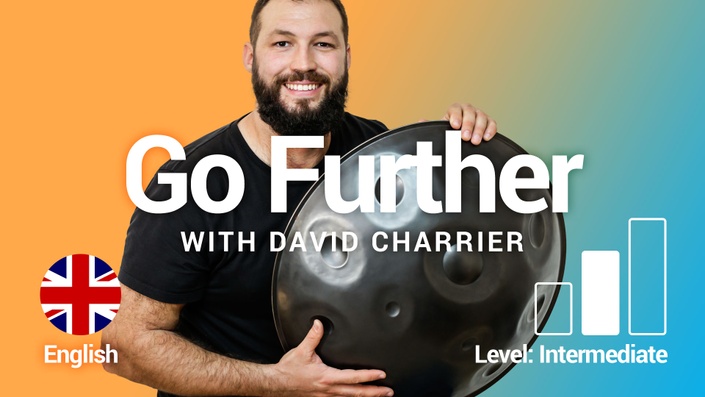 Go Further - Intermediate handpan course
Bring your rhythmic and melodic skills to the next level and play like a pro!
Enroll in Course
★ ★ ★ ★ ★
Students give this course an average rating of 5 out of 5 stars
Intermediate handpan players: Here are all the handpan lessons you need to improve your composition skills and bring your rhythmic and melodic skills to the next level! Discover more than 6 hours of tutorials to Go Further in your playing. So whether you're bored with your repertoire, struggling with tempo, techniques or tricks, this course is for you!
This online course is self-paced, allowing you to work at your own rhythm. With more than 8 years of experience teaching people how to play the handpan, I've developed an innovative & fun method to teach students from around the world quickly and with great results. This Intermediate Course is packed with techniques, beats and creative tips to boost your composition skills to the max.
Have you also experienced this?
The problem with most of us is that we own a wonderful instrument, we love the handpan but we are a little bit frustrated. We made great progress at the beginning, we had fun, but we quickly found ourselves in a rut. We get stuck playing the same "patterns", we find composing a struggle. We lack "techniques". We feel like it's time to refresh and renew our playing. Some of us even go busking and hope that no passerby sticks around more than 10-15 minutes in case they find out that we only know this one loop! 😃At home, we pick up our instrument and play 15 minutes, but are quickly fed up with our limitations. We still make some progress, but it's so slow, we don't know how break the glass ceiling and start seeing significant progress again. We actually want to step up to the next level!
What we dream about
We would love to compose more and have more variety in our songs. We even secretly dream of recording a little CD to share our music but we sense that we lack ideas and mastery of our instrument.

We would like to clean up our playing, build patterns, be more structured, manage to play with a metronome, know exactly what we're doing, master certain techniques, but we're overwhelmed by all this and don't know where to start.
What most of us try
Maybe you're like most of us. We try to meet up with other handpan player friends to play together and encourage one another. We sometimes manage to grab a handpan lesson here or there, or attend this or that workshop in a handpan festival. Some of us also try to find a teacher available for skype lessons. But all of these attempts are often sporadic.
What we really need
In fact my friends, what we really need is it to be regular in our learning and break through the "glass-ceiling" of our playing. By regularity, I don't mean 3 hours a day, but instead having clear achievable goals every time we sit down for a practice session. And all that while having fun!
What I have observed
Over the years, I've come to realize that there two main types of handpan players :
On the one hand there are people who can play a melody, but lack rhythm. Often they learned how to play a non-percussion instrument growing up, took singing lessons or listen to lots of music. These people are musically inclined and have great ideas but really need develop their percussion skills.
On the other hand there are people who have some percussion experience. But now they are faced with the challenge of composing, coming up with ideas and creating melodies. These players need to adapt their percussion skills to this special "melodic instrument". It's so different from a djembe! ;-)
My tutorials are carefully structured to help both types of player get the best out of their hang. There are also notes for left-handed players. This course doesn't depend on teacher availability and it's a fun and motivating method, where you can clearly see your rapid progress.
Why did I create this online course?
It's really simple: I love teaching! I love to see people making progress. I've been playing handpan for 14 years now and I feel a kind of "responsibility" to pass on my passion knowledge to others. I love the handpan community, and I want as many people as possible to enjoy their instrument, to discover its endless possibilities. But lately I've been turning down so many requests from students because I'm simply over-booked. I don't have enough time to keep on giving workshops, skype lessons, one-to-one private lessons. I just wanted to find a way to answer all these requests. That's why I decided to create an online handpan school called MasterTheHandpan.
It's not a stuffy school: it's a unique, easy and fun way of learning that fits around you and your life. I know that your time is precious and I want you to enjoy it. My teaching style means you will pick up knowledge and skills rapidly.
With MasterTheHandpan, you will be a part of a fantastic community of over 2,000 students worldwide, as well as having the chance to chat with me, your friendly handpan teacher :)
Am I really an intermediate player?
When I created this course, I had in mind players:
Who have their instrument for 2 or 3 years
Who feel stuck in their playing. People who need more ideas, more rhythms in different time signatures
Who want to learn about how to compose
Who need to be organised, who need to structure their playing
Who struggle with rhythm/staying on the beat
Who need to work on their hand and finger coordination and independence
Who want to learn some rolls and finger tricks
If you feel more like a beginner, please check out this course for beginners.
What you will learn with these intermediate handpan lessons
By the end of this course, you will also be able to compose your own awesome stuff! This is really the main objective of the course.
Here is what you will learn in this course in more detail:
You will develop your coordination and hand-independance skills
You will get familiar with 4/4 6/8 7/8 9/8 time signature rhythms
You will discover how rhythms are structured
You will learn to build-up a pattern in order to compose
You will learn a great method to allow you to compose
You will work on some ear-training exercices
So, how does this course work?
Log in as my student and you'll find more than 70 tutorials from 5 to 12 minutes each, broken down into all the key skills you need.
The tutorials are shot from above, so your left is my left, your right is my right. No more reverse thinking that melts your brain.
Every pattern is shown slowly with a unique onscreen notation system, so you can copy my hand movements.
You can start the course whenever you want, finish whenever you want and play each video as many times as you need.
You can watch them from any device.
They will help you to progress, stay motivated and master new-level skills on your handpan, step-by-step
Is it value for money?
Because of the way my course is designed, I need to confess something: You will learn MUCH MORE than if you took the equivalent number of Skype lessons with me... and all at a fraction of the price.
Oh, and you get lifetime access… which is pretty cool!
Who is this course for?
Does your partner, husband or roommate ask you to stop always playing the same things? These handpan lessons are for you!
Do you feel it's time to structure your playing and start composing? These handpan lessons are really designed for you!
Do you feel like you need more rhythms and composition ideas? These handpan lessons are for you!
Would you like to work on some rolls and finger tricks? Go for it!
Do you feel like you're stuck in your playing? These handpan lessons are for you!
Would you like to charm a special someone with your handpan skills? These handpan lessons are definitely for you! 😉
Do you feel like you don't need handpan lessons? These handpan lessons are for you!
Can I try this course for free?
Sure! This is actually a great idea. I have prepared a selection of amazing lessons so you can fully test this course : Click here to access the FREE trial course for intermediate players.
What if I'm not satisfied with the course?
I'm confident that this course is excellent. That's why I offer a 30-day satisfaction guarantee. If you follow the entire course and are not satisfied with all that you have learned, email me and I'll reimburse you quickly.
Why you should sign up
We can't wait to see you onboard. If you sign-up today to MasterTheHandpan "Go Further", you will get:
Immediate access to this amazing course AND:
A free digital download of my album: Zivoon (value $10)
A quality PDF of all the training sheets used in the course
Access to a private Facebook group exclusively for MasterTheHandpan students... the perfect place to get to know other players, share your progress and be inspired, as well as connect with me, receive some cool tips and win great prizes
What are you waiting for? Start learning today!
Your Instructor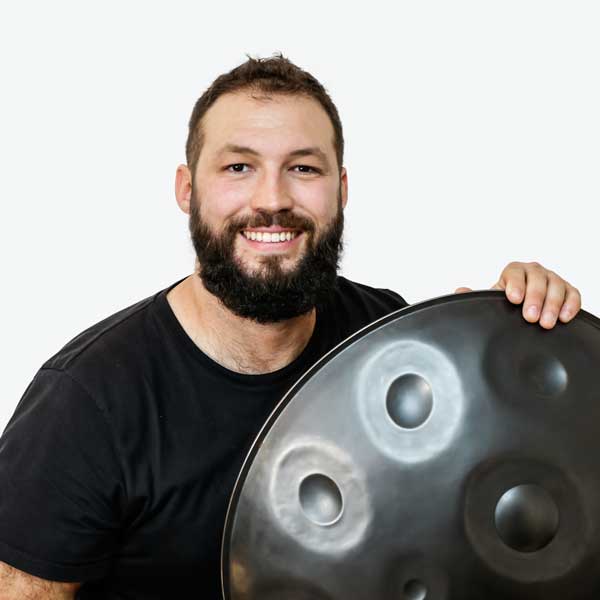 As a multi-instrumentalist, I'm passionate about rhythms and melodies. In 2004, I discovered the handpan, a unique 'sound sculpture' with enchanting tones. My study of this instrument and my desire to compose have allowed me to share my music throughout the world. Whether as a solo artist, part of a duo, or with a bigger group, I love to show my passion and help people to discover this instrument.
‍
Over the past few years, I've really enjoyed teaching the handpan. I often travel to other countries to give masterclasses and individual courses. I love seeing people introduced to the handpan and its infinite possibilities, and I love watching my students blossom in their musical journey.
‍
In order to continue encouraging and teaching as many handpan enthusiasts as possible and to see its magic impact lives, in 2016 I created the online handpan school MasterTheHandpan. Its mission is simple: « Learn fast, have fun! »
Frequently Asked Questions
When does the course start and finish?
The course starts now and never ends! It is a completely self-paced online course - you decide when you start and when you finish.
How long do I have access to the course?
How does lifetime access sound? After enrolling, you have unlimited access to this course for as long as you like - across any and all devices you own.
What if I am unhappy with the course?
We would never want you to be unhappy! If you are unsatisfied with your purchase, contact us in the first 30 days and we will give you a full refund.