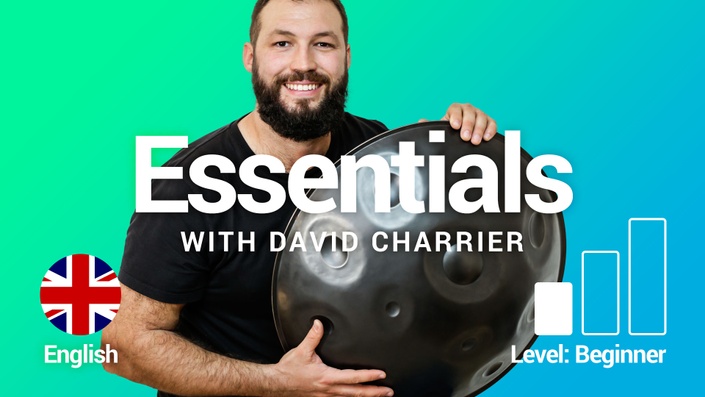 Essentials - handpan course for beginners
Learn fast & have fun with David Charrier
Enroll in Course
★ ★ ★ ★ ★
Students give this course an average rating of 5 out of 5 stars
Beginner handpan players: Here is the handpan course you need to bring your rhythmic and melodic skills to the next level! Whether you just got your first handpan or you're struggling with the basics, this course is for you!
This online course allows you to work at your own pace. With more than 8 years of experience teaching people how to play the handpan, I've developed an innovative & fun method to teach students from around the world quickly and with great results. This course is what I would consider the "Essentials" for beginner players.
Have you also experienced this?
The problem with most of us is that we own a wonderful instrument, we're full of hopes of learning how to play the handpan, but very quickly find ourselves in a rut. We get stuck playing the same old rhythms over and over again and we don't know how to come up with new melodies. Many of us are left feeling frustrated. We saved up for this beautiful instrument. We waited so long on a maker's waiting list. And once we we received our handpan we had fun initially, but then realised that we were always playing the same loop. Some of us even go busking and hope that no passerby sticks around more than 10-15 minutes in case they find out that we only know this one loop! :-)
What most of us try
Most of us try several things to get out of this rut:
Our first idea is usually to go looking for handpan videos on Youtube. The videos we find are often super-inspiring, but don't really allow us to replicate what we're seeing. It's hard to break down the beautiful songs the artists are playing and we quickly realise that we lack a method for how to play this instrument.
So our next idea is to look for training. But unfortunately, there is very little handpan training material available. Signing up for private lessons via Skype is an option of course, but it's costly and, even worse, many teachers, like me, are overbooked.
My course breaks everything down into clear, easy to follow steps. You can dip into each tutorial whenever you want, and as many times as you want, allowing you to learn at your own pace.
What we really need
Over the years, I've come to realize that there two main types of handpan players:
On the one hand there are people who can play a melody, but lack rhythm. Often they learned how to play a non-percussion instrument growing up, took singing lessons or listen to lots of music. These people know some of the basics but really need develop their percussion skills.
On the other hand there are people who have some percussion experience. But now they are faced with the challenge of learning to play a melodic instrument and of developing and adapting their percussion skills to this special instrument.
My tutorials are carefully structured to help both types of player get the best out of their hang. There are also notes for left-handed players. This course doesn't depend on a teacher availability and it's a fun and motivating method, where you can clearly see your rapid progress.
Why did I create this online course?
I've been teaching handpan for many years. I love my job and I love seeing my students improve! But doing just masterclasses and private lessons means I'm not reaching all those who need help. It's impossible for many of you to travel to me or to afford one-to-one lessons. As I am passionate about wanting to teach as many people as possible, I created MasterTheHandpan.
It's not a stuffy school: it's a unique, easy and fun way of learning that fits around you and your life. I know that your time is precious and I want you to enjoy it. My teaching style means you will pick up knowledge and skills rapidly.
With MasterTheHandpan, you will be a part of a fantastic community of over 7,500 students worldwide, as well as having the chance to chat with me, your friendly handpan teacher :)
What you will learn in this course
Here is what you will learn in this course:
You will develop your coordination and hand-independance skills
You will get familiar with 4/4 rhythms
You will get familiar with 3/4 rhythms
You will discover how rhythms are structured
You will learn to build up a pattern
You will learn how to create a melody from a pattern
At the end of this course, you will know how to play some awesome grooves and create as many variations as you want.
So, how does this course work?
Log in as my student and you'll find tons of short video tutorials, broken down into all the key skills you need.
The tutorials are shot from above, so your left is my left, your right is my right. No more reverse thinking that melts your brain.
Every pattern is shown slowly with a unique notation system onscreen, so you can copy my hand movements.
You can start the course whenever you want, finish whenever you want and play each video as many times as you need.
You can watch the videos from any device.
They will help you to progress, stay motivated and master the essentials of your handpan, step-by-step.
Is it value for money?
Because of the way my course is designed, I have a confession to make: you will learn MUCH MORE than if you took the equivalent number of Skype lessons with me... and all at a fraction of the price.
Oh, and you get lifetime access… which is pretty cool!
Who is this course for?
Do you feel like you're stuck in your playing? This course is for you!
Does your partner or roommate ask you to stop always playing the same things? This course is for you!
Would you like to charm a special someone with your handpan skills? This course is definitely for you! 😉
Do you feel like you don't need handpan lessons? This course is for you!
Can I try this course for free?
Sure! This is actually a great idea. I have prepared a selection of amazing lessons so you can fully test this course : Click here t access the FREE trial course for beginners.
What if I'm not satisfied with the course?
I'm confident that this course is excellent. That's why I offer a 30-day satisfaction guarantee. If you follow the entire course and are not satisfied with all that you have learned, email me and I'll reimburse you quickly.
Why should you should sign up?
We can't wait to see you onboard. If you sign up today to MasterTheHandpan "Essentials", you will get:
Immediate & unlimited access to this amazing course AND:
A free digital download of my album: Keona (value $10)
A quality PDF of all the training sheets used in the course
Access to a private Facebook group exclusively for MasterTheHandpan students... the perfect place to get to know other players, share your progress and be inspired, as well as connect with me, receive some cool tips and win great prizes
What are you waiting for? Start learning today!
Your Instructor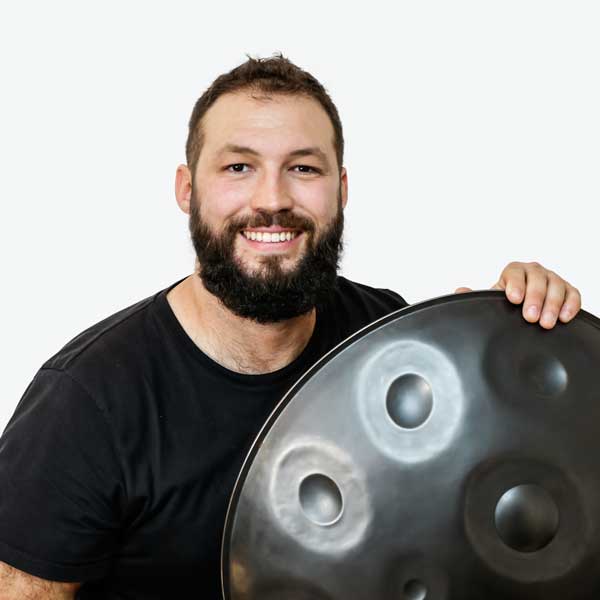 As a multi-instrumentalist, I'm passionate about rhythms and melodies. In 2004, I discovered the handpan, a unique 'sound sculpture' with enchanting tones. My study of this instrument and my desire to compose have allowed me to share my music throughout the world. Whether as a solo artist, part of a duo, or with a bigger group, I love to show my passion and help people to discover this instrument.
‍
Over the past few years, I've really enjoyed teaching the handpan. I often travel to other countries to give masterclasses and individual courses. I love seeing people introduced to the handpan and its infinite possibilities, and I love watching my students blossom in their musical journey.
‍
In order to continue encouraging and teaching as many handpan enthusiasts as possible and to see its magic impact lives, in 2016 I created the online handpan school MasterTheHandpan. Its mission is simple: « Learn fast, have fun! »
Course Curriculum
E-book 📘
Available in days
days after you enroll
Section 1: Foundational Skills
Available in days
days after you enroll
Frequently Asked Questions
When does the course start and finish?
The course starts now and never ends! It is a completely self-paced online course - you decide when you start and when you finish.
How long do I have access to the course?
How does lifetime access sound? After enrolling, you have unlimited access to this course for as long as you like - across any and all devices you own.
What if I am unhappy with the course?
I would never want you to be unhappy! If you are unsatisfied with your purchase of my handpan course, contact me in the first 30 days and I will give you a full refund.